What is the Trim Down Club?
The Trim Down Club is a unique health and wellness program that can help you modify your eating habits to achieve healthy, sustainable weight-loss. This program is an unbeatable value at only $1.99 for your first month, and $9.90 for each month thereafter.

Our goal is to share with our members important, up-to-date information, news, recent studies and nutrition tips. You'll learn which foods you should eat and which to avoid to lose weight and be healthy. We aim to provide simple and accurate information that our members will be able to remember, share, and use practically.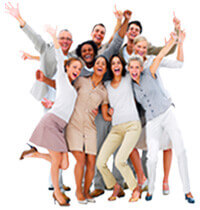 What is this Presentation? In this free but valuable presentation, we'll share five foods you've been told are "healthy" that can actually increase unwanted weight gain. You're probably eating these foods daily, and they not only add to those extra inches around your belly but can stop you from losing weight altogether.
This presentation will also share the benefits of joining the Trim Down Club.
The Trim Down Club Program Theme Your body has a built-in blueprint to be lean and healthy. We show you how to eat the right foods in the right combinations so you can have the body nature intended you to have: trim, healthy, attractive.
Trim Down Club Menu Planner – help your body to enter a Fat-Burning Mode! Just choose your favorite foods from the Personal Menu Planner, and it instantly creates a weekly menu that uses just the right combination of proteins and carbs to turn on your body's fat-burning furnace.
Everything is immediately accessible online, and since you're not depriving yourself of the foods you love, you can stick with this plan, and help your body to naturally redefine itself to your ideal body weight.
Trim Down Club Recipes - Meals That Make You Fit…Not Fat! If you're going to be successful, the program needs to fit your lifestyle ... not the other way around. That's why we took your favorite recipes and made small , effective changes so your meals work with your body rather than against it.
You'll learn to swap processed and chemical-laden foods and use whole, unprocessed ingredients. We focus on optimizing our recipes with the right amount of healthy fats, as well as with the right carbs and proteins for your body.